Casual, Upscale Dining in Downtown Springfield, Il
Locally Owned, Surprisingly Affordable
American Cuisine with a Twist
Book our Private Meeting Space
Relax with drinks and small plates
Locally Owned, Surprisingly Affordable
Visit our downtown Springfield restaurant for an upscale dining experience
Visit our restaurant in Downtown Springfield, IL for a dining experience that's sure to impress. Our Chef, Keith Loukinen, creates menu options that are designed to delight your eyes and stimulate your palate. From classic favorites to contemporary American fare, there's something here that everyone can enjoy.
Our selections nourish your mind and body. Whether you need a break from the office or a new spot for your weekly lunch dates, Loukinens' on 4th is a great choice. Enjoy our casual, upscale surroundings while dining on selections that will stimulate your senses.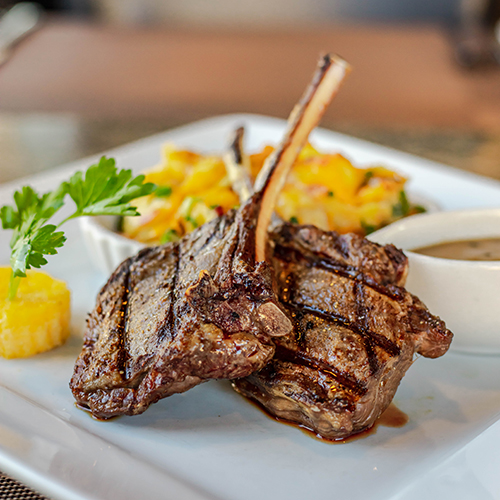 Experience casual, upscale accommodations in our dining room. Dinner options are specially crafted to stimulate your taste buds. Chef Loukinen has a reputation for putting a surprise twist that takes that dish from ordinary to extraordinary.
Out to eat with the kiddos? Loukinens' on 4th in Springfield, IL offers a children's menu containing everything from juicy chicken tenders to smaller portions of our classic entrees. We guarantee to have something your child will love!
These off-menu items change daily – what you see here are only examples of the delectable creations that we cook up in our kitchen. Please check our Facebook page to see the unique, delicious recipes the Chef Loukinen is featuring for lunch and dinner!
Give your loved ones the experience of casual, upscale dining.
It takes some guts to brand a restaurant with your own name, but Loukinens' has the moxie to back it up. In case you don't know the back story, it's co-owned by Keith and Laurie Loukinen. Keith was formerly the food and beverage director at the Wyndham hotel downtown and was behind its signature restaurant, Nick & Nino's Penthouse Steakhouse. On our last few visits to Loukinens', Keith came out from the kitchen and made the rounds, visiting every table to make sure everyone was enjoying their dining experience. Judging from your votes this year, Springfield is definitely high on Loukinens'. It describes itself as "casual upscale dining" and "American cuisine with a twist." With dishes like spiced duck won tons and spiced tuna poke crisps, Loukinens' has certainly delivered on its promise.
We love to hear from our happy guests. If you have dined with us and have yet to give us your review, please do so!
My family and I went here for my birthday a few nights ago. I would highly recommend this place for a special occasion. The food and presentation was simply outstanding. We tried the chili lime calamari. The best calamari I have ever tasted, and I have it everywhere that has it!! Also, my husband had the filet and it was cooked to perfection. A few of us had the roasted chicken over gnocchi. The chicken was SO flavorful! And the gnocchi... I am Italian and gnocchi is my absolute favorite, but most places don't have it on the menu. If they do, it's never done right. This gnocchi was absolutely perfect!! Perfect consistency and absolutely delicious! Now that I think about it, why wait for a special occasion?? Treat yourself and try Loukinens on 4th!
This place was literally next to my hotel, best potato soup I have ever had! I ordered the half sandwich with a cup of soup for $11. The Italian sandwich on chibatta bread was great too. Everything tasted fresh. The servers were friendly and attentive. The food came quickly. The atmosphere was relaxing with soft background music playing. I will definitely be returning during my future trips to Springfield.
It is refreshing how chef manages to make the environment both open and bright and intimate and exclusive. The hosts are well versed on the menu and welcoming. Quality and presentation is better than I expected.
Very friendly and attentive staff! Very upscale and fancy without making you feel like you need a jacket and tie. Great place for gatherings and receptions. I ordered the cheeseburger for lunch and was very much impressed with the quality and taste! A *cheeseburger*! Will definitely be returning sometime not only for lunch but to also see what the steak and seafood offered for the evening meal is like!
Delicious food, great service, tasty cocktails. Laurie Loukinen-owner, consummate professional and hostess. Wonderful dining experience.
Excellent service with knowledgeable staff. Unusual delightful flavors. Executive chef and owner came out to speak to everyone. Would recommend highly for lunch. Suspect dinner is also wonderful.